Toruń - UNESCO City
History of Toruń's membership on the UNESCO World Heritage Site has its beginning on December 4th, 1997, when during 21st session of UNESCO World Heritage Committee the Medieval Old Town was placed on the official list. With that honourable reward Toruń has become one of fifteen locations in Poland recognized in between 1978-2019 as unique cultural treasures of the world.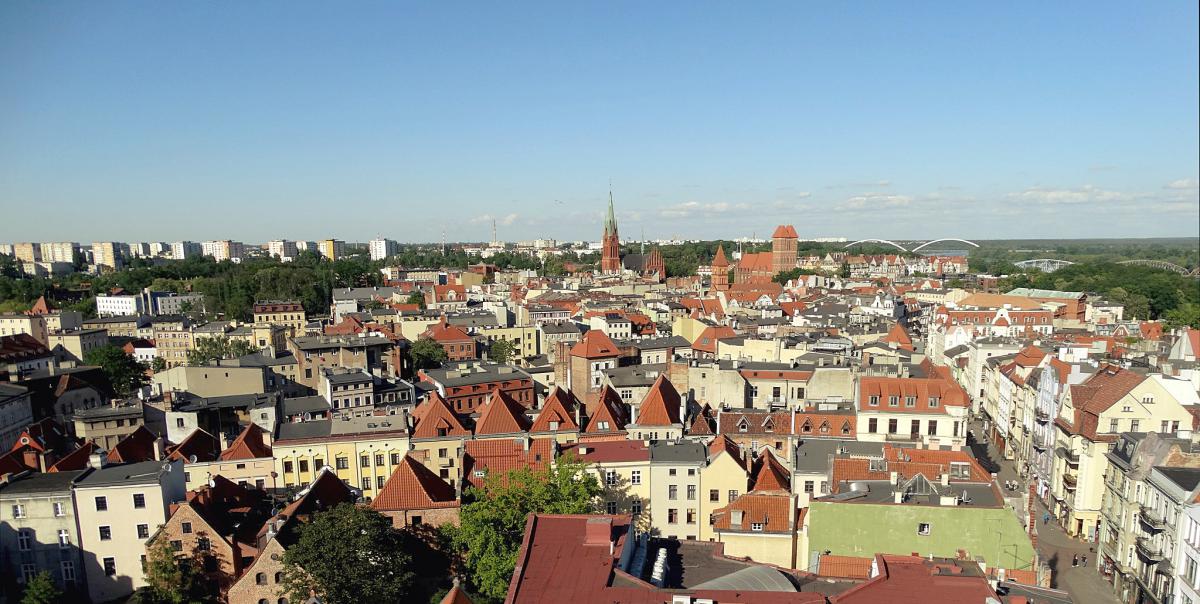 The list doesn't acknowledge one particular object or a building, but instead includes the entirety of Old Town architecture with all of its watchtowers, walls, granaries and tenements, with app. 35 hectares in total. An official profile of the site, the one that can be viewed on UNESCO World Heritage in Poland main page states: Toruń owes its beginnings to the Teutonic Order that established a castle here in late 13th century, its main purpose being a base for conquest and evangelization of Prussia. The city, belonging to Hanseatic League, quickly started to play a significant role in country's trade flow.  Both public and privately owned buildings from 14th and 15th century located in the Old Town and New Town areas are a living proof for settlement's greatness and rank. Without a doubt, it was the beautifully preserved architecture and authenticity of aforementioned structures that decided for adding Toruń site to the list. Throughout history, the city has been greatly damaged only during Swedish invasion of early 18th century, when the Old Town Hall was burned down and a great percent of existing structure was destroyed. Second World War, however, while it brought many old towns in Polish cities to ruin, spared Toruń of the same fate, allowing historical buildings to survive to this day.  
With this in consideration, the criteria according to which the city was placed on this prestigious list become quite clear. Toruń qualified under culture heritage criteria category II and IV. In detail, they state that:
II: The small historic medieval trading and administrative city of Toruń preserves to a remarkable extent its original street pattern and outstanding early buildings. It set a standard for the evolution of towns in this region during Eastern Europe's urbanisation process in the 13th and 14th centuries. The combination of two towns with a castle is a rare form of medieval settlement agglomeration that has survived almost intact, and numerous buildings of considerable intrinsic value have been faithfully preserved within the town. In its heyday, Toruń boasted a wide range of architectural masterpieces, which exerted a powerful influence on the whole of the Teutonic state and the neighbouring countries.
IV: Toruń provides an exceptionally complete picture of the medieval way of life. Its spatial layout provides valuable source material for research into the history of urban development in medieval Europe, and many of its buildings represent the highest achievements in medieval ecclesiastical, military, and civil brick-built architecture.
Indeed, the fact that Old Town area truly illustrates history's stages extremely well and, above all, incorporates them into modern people's everyday life must have also played a huge role. There are many academic, judiciary, museum-related, entertainment, commercial and residential buildings located in the Old Town. That's why this cultural asset is the heart of Toruń as well as its life – a feature that permanent residents understand well.  
It's worth mentioning that together with prestige associated with honour of list inclusion a lot of strict  responsibilities come into play. City's government is obliged to protect historical UNESCO buildings and regularly report about their state. With preservation and caretaking of these assets in mind, Municipal Council has created Municipal Conservator Bureau. The unit's main task is to supervise all of modification, development, renovation, conservation and usage of all historical structures. It also has a separate budget grants at its disposal, thanks to which building owners can work with the conservator to make location patronage more efficient. According to National Heritage Institute's new release titled  "Heritage in Poland", overall number of pieces of architecture in  evidence (and under care of the conservator) stands at 2700, including 410 of the most precious, registered objects. 
Toruń is not alone in its mission to preserve its cultural goods – we continuously receive support from European Union and Polish government, mainly in a form of grants and donations for various revitalisation programs. Project "Toruń – Hanza by the Vistula", thanks to which Teutonic Castle Ruins were partially renovated or "toruń Old Town Project" from years 2007-2014 are good examples of this support system. Toruń also serves as a seating for Polish UNESCO City League, an organization gathering towns that have the Heritage Site List objects in their vicinity. Its main role is to make communication between UNESCO countries function better, further making historical conservation easier. 
As we can see, there are reasons to be proud and happy for Toruń's people, as well as for all those who value cultural asset preservation and  respect history. Celebration of Toruń's membership in the  UNESCO group is also prominent in everyday life – for instance, festivities for the 20th anniversary of Toruń's enlistment on the UNESCO World Heritage Site list in 2017. During that event, our City Hall and its partners organised a huge, September weekend full of concerts, exhibitions, discussion panels and cultural attractions. Guest who came to see that event surely remember the final concert's performance, during which spectators were showered with a spectacular rain of angelic feathers.  
For sure, the next 20 years on the UNESCO Heritage Site List will be just as creative and exciting for Toruń's residents, as they will spend it happily participating in the world's cultural life.
Source: 
"Dziedzictwo w Polsce – Heritage In Poland", Narodowy Instytut Dziedzictwa, Warszawa 2017
www.whc.unesco.org
www.unesco.pl